I have discovered a very cool product:
ChrysQ Luxe Slipcovers
These are beautiful slipcovers for your wedding photo album. What a great way to display, carry and store your precious memories. I've seen some beautiful albums, but in the end, they just kind of sit there, either on the bookcase or coffee table. What a stylish statement, using a ChrysQ Luxe Slipcover.
ChrysQ is designed and custom manufactured by Christina Quintanilla, wife of
Ben Quntanilla
(a wonderful wedding photographer). As Christina describes, BenQ needed a way to display his incredible work in a manner which reflected his brand. They designed a very luxurious line of wedding album slipcovers which are just to die for. Christina has a background in fashion design and a passion for accessories, mainly handbags (my kind of gal). Her abilities in design in allow to please all personalities and styles: rockstar leather look, vintage lacy, or fiery red hot metallic. (I want fiery red hot metallic)
There are two lines available and many swatches and customization options available. The
Deluxe
line for this Fall is available for order until December 31, 2009. The
Deluxe
line changes every season (3 months) to keep up with current fashion.
The
Standard Line
is available year round. You can find more pictures and swatches online.
These slipcovers are available for albums as small as 4x4 and up to and larger than 16x12. Each one is custom made per the client specification. The suggested MSRP ranges from $50 - $400 and higher depending on
customization
. Christina's brilliance does not stop with album slipcovers. She also has
iphone and laptop
covers AND has designed handbags too. I am just in love with ChrysQ. Photo album slipcovers are available through your photographer, so have them give Christina a call asap. What a great Christmas gift for you family when you gift them their parent album, make sure it was wrapped in luxury, a ChrysQ Luxe Slipcover.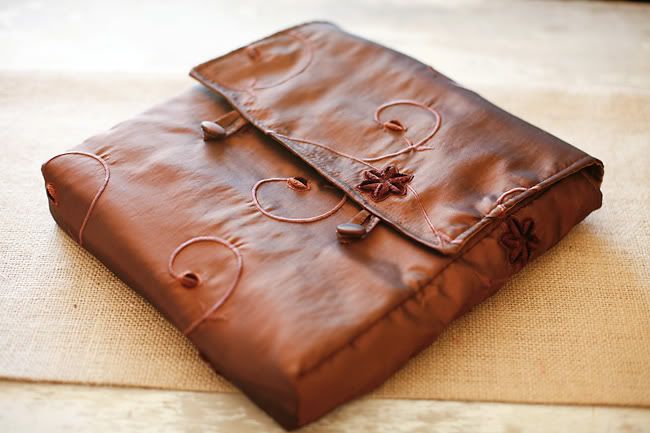 last two photographs courtesy of
Grant Isaac Studio